Knowledge base


Contact
IVELstyleM
1, Kukush Str.
1309 Sofia
Tel.: +359 2 9291345
E-mail:
office@ivel.org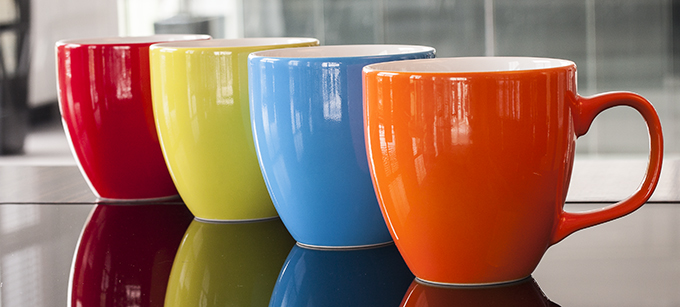 HydroColor™ - innovative porcelain color coating
Hydrocolor technology allows for coloring selected, white mugs and cups in any Pantone color. By minimizing the human factor in the production process, each mug is made with the same care and precision. We are able to perform even the biggest order. Hydrocolor coloring is available starting from 108 pieces.
Hydrocolor coating for orders below 108 pieces is available only in a limited palette of colors that are currently on our stock. Hydrocolor coating in any Pantone color is available only starting from 108 pieces.
High potential of mixing decorating technologies
Hydrocolor technology can be combined with Xpression - organic transfer print and Sensitive Touch.

Safety in contact with food
All of our dyes are certified and are safe to come in contact with food.
Decoration durability
We guarantee that mugs and cups with Hydrocolor coating retain their properties and colors for at least 400 wash cycles in domestic dishwashers or for one year.
HYDROCLOR – mugs in any Pantone color
Technology benefits
Technology limitations
Technology process phases

• Pantone color reproduction,
• coating the outside surface of the mug,
• possibility of mixing with many decoration technologies
• orders starting from 108 pieces.

• limited resistance to mechanical damage.

• Preparation of dyes.
• mugs coating in spray chamber,
• firing at 200 Celsius degrees.


Examples of Hydrocolor coating:
Hydrocolor coating
Hydrocolor coating with lowered rim



Hydrocolor on the handle

Monolith Hydrocolor - Sensitive Touch and coating whole surface


Hydrocolor and Xpression -

organic transfer print.

Hydrocolor + colored Sensitive Touch
Hydrocolor is available for the following products: